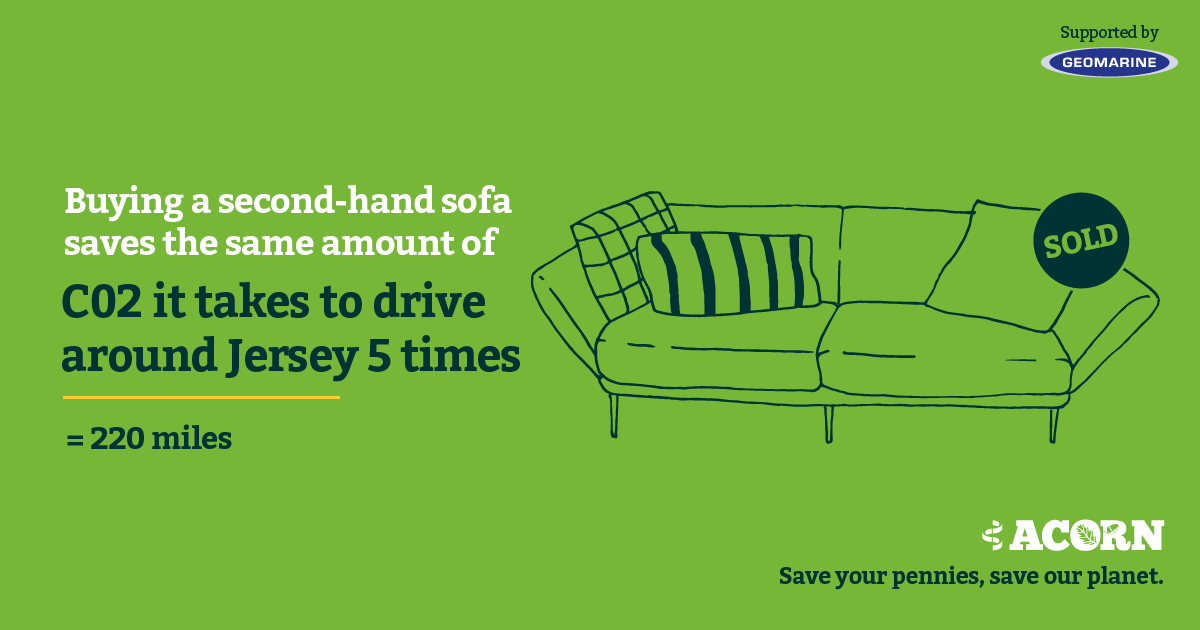 Reuse
Help us create jobs, save the environment
& support our community
We reuse and upcycle unwanted items that are donated to us, so you can get a great bargain while benefitting the environment at the same time. Every penny of profit is reinvested to give work and training opportunities to people who have a disability or long-term health condition.
For information about deliveries and collections, please see our Frequently Asked Questions at the bottom of the page.
Quality items, affordable prices
You'll find all sorts at Acorn Reuse in Trinity, including furniture, domestic appliances, clothes, toys, books and bric-a-brac. All items are checked, repaired or upcycled to national reuse standards. We work closely with the Trading Standards Department to ensure that our customers get quality items at a fair and affordable price. Second-hand doesn't mean second best!
Environment
It has never been more important to consider the environment when you go shopping. By buying pre-loved goods, you are reducing your own environmental footprint. Acorn Reuse benefits Jersey's environment by reusing tonnes of unwanted items year-round. This reduces the amount of material being sent to the incinerator or landfill and it also reduces the need for manufacturers to make and transport new products. Reuse saves energy, limits pollution, conserves natural resources and reduces greenhouse gases.
Community
By offering reasonably priced reused goods, we are helping lower-income families enjoy an improved quality of life. We often donate to other charities, whether it's children's clothes to the Women's Refuge, CDs and DVDs to Philip's Footprints, or a piano to Africa! 
For more information please see our Facebook page https://www.facebook.com/acornenterprises/
How to donate
Simply drop off your unwanted items at Acorn Reuse in Trinity.
There's plenty of parking and our staff are on hand to help. 
Questions? Please refer to our Frequently Asked Questions at the bottom of the page.
Examples of items we accept
Kitchen items
Kettles, tables, chairs, crockery, cutlery, glasses, cabinets
Bedroom items
Chests of drawers, bedside tables, wardrobes
Living room items
Sofas*, chairs*, bookcases, cabinets, desks, TV tables & units, coffee tables, lamps and other small furniture
General utilities
Vacuum cleaners, electric heaters, garden machinery
Electronic items
TVs, DVD players, video recorders, digital set-top boxes, computers (Pentium and above only), consoles & games, music systems
Household items
Mirrors, curtains, cushions, bedding, ornaments, pictures, books, CDs, DVDs, records
Miscellaneous:
Carpets / rugs, lawn mowers, garden furniture, tools, garden tools, bicycles, clothes, shoes, bags, belts, bric-a-brac, toys and games
Examples of items we cannot accept
Furniture & housewares
Upholstered furniture without a fire label, including items without labels that are part of donated sets; upholstered furniture with large tears or damage; furniture with missing parts or damage that may make the item unsafe; flat pack furniture; glass tv units; veneered wood furniture with damage to the veneer exposing the inner wood.
Weapons
Knives, swords, sword stocks, crossbows, guns, ammunition (including replica guns).
Software & hardware
Home recorded DVDs; videos; audio tapes; MP3 players; memory cards; home recorded computer games; software on recordable CDs & DVDs.
Children's equipment
Unfortunately due to health and safety recommendations the following cannot be accepted: children's car seats, prams, pushchairs and buggies (unless in excellent condition), highchairs, cots, carry cots, playpens, soft toys without a CE mark.
Electronic items
Electric blankets; electric showers; sunbeds and tanning equipment; refrigeration units; TVs without HDMI ports or remote controls; DVD players without HDMI port or remote controls; old Sky boxes.
Heating & cooking
Gas appliances; oil filled radiators without thermostat; mobile oil heaters; storage heaters that are hard wired; oil & gas.
Safety & sports equipment
Buoyancy aids, lifejackets, inflatable dinghies, safety helmets, riding hats, crash helmets, cycle helmets, safety harnesses of any sort, fire fighting equipment.
Miscellaneous
Personal appliances such as shavers, foot spas, etc (unless unused and in with original sealed box); duvets and pillows that have been used; suitcases; tents (unless brand new and sealed); gazebos (unless brand new and sealed); medication including vitamins; unsealed toiletries; perishable goods; food & drink; prescription spectacles; cleaning agents, solvents and adhesives; ivory; fur coats & items made of fur; batteries; flares & pyrotechnics; fake or counterfeit items; items made from endangered species.
*We're not able to take sofas and soft furnishings that were made before 1988, or which don't have the Fire Safety label displayed.